NeverFlush Coolant – Eliminate Antifreeze Replacement
NeverFlush is a proprietary blended anti-corrosion additive designed for both diesel and gasoline engine cooling systems. It is proven to be extremely effective at preventing liner cavitation and corrosion erosion of all metals, including aluminum, steel, cast iron, lead solder joints. NeverFlush recharges your old antifreeze/coolant so that it has even better chemistry than when it was new and can reduce antifreeze disposal up to 80%.
Operation
RED TEK® NeverFlush™ is specially formulated to safely clean metal surfaces and restore antifreeze/coolant without flushing the system or recycling. NeverFlush dissolves rust, scale, and oil from your system as you drive. It changes harmful solids into an inert liquid through a process called aquation. NeverFlush also contains specialized buffers to maintain the proper pH of your cooling system.
Lower Cost
With RED TEK NeverFlush Do-it-yourselfers can save on avoiding expensive antifreeze flush jobs. NeverFlus is less costly than having to buy flush kits, cleaners, anti-rust additives, and antifreeze. And NeverFlush cleans even better than traditional flushes. Fleets using NeverFlush™ report up to a 75% reduction in water pump failures, rad jobs, and thermostat replacements.
Environment
Antifreeze poses a danger to children, pets, and wildlife and can also contaminate water sources. NeverFlush eliminates the need to handle, store, or recycle antifreeze.
Pour and Go!
How long does it take you or your mechanic to flush your system? NeverFlush takes about 10 seconds to install. It cleans as you drive.
Heavy-duty truck fleets have used the NeverFlush formula for over 10 years. It is now available in single-dose containers for cars and light trucks–both gasoline and diesel engines. NeverFlush meets the American Trucking Association requirements and the following ASTM vehicle test specifications: Extended Service, Corrosion, Cavitation, and Heat Transfer.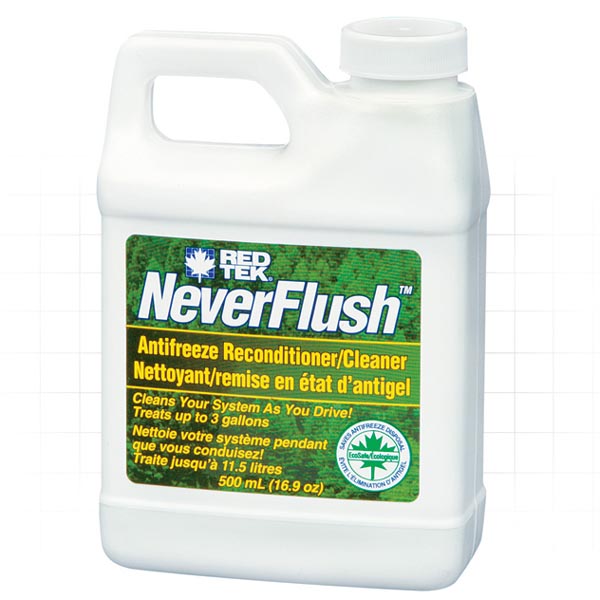 Brand: RED TEK
Model: Cooling System – NeverFlush
MPN: NeverFlush
UPC/Part Number: 716
Weight: 16oz
Case Pack: 24
Case Wt.: 24
Case LxWxH: 16x11x5
Pallet Qty: 48
UPC Code: 819331007165
Pallet Wt. Lbs: 1200
EPA Certification Required: No
Require Certification to Purchase: No
Contact a sales representative in your area today to buy NeverFlush Antifreeze Flush Coolant.