ProSeal12 – Leak Sealant for Automobiles, Trucks, & Tractors
RED TEK ProSeal12 is a formulated system designed to seal leaks in both metal and rubber parts of air conditioning and refrigeration systems. ProSeal12 is chemically activated by moisture at the leak site to form a permanent seal.
ProSeal12 offers several benefits other than self-sealing properties. Moisture is chemically eliminated from the system. Removing moisture reduces compressor head pressure and enhances refrigerant flow which results in lower vent temperatures.
Operation
ProSeal12 is simple to use, installs in minutes, and seals in seconds. By eliminating leaks in seals, you'll increase overall performance. RED TEK's innovate formula remains in your system as a liquid lubricant ready to seal any future leaks.
Lower Cost
Less expensive than replacing leaking evaporators, condensers, compressors, and metal lines. ProSeal12 quickly seals to find leaks, saving time and money.
Environment
RED TEK ProSeal12 helps environment by reducing refrigerant emissions from leaking air conditioning systems.
Safety
Safe and easy to use. Less toxic than other seal treatments that contain poisonous methanol. No long-term health risks have been attributed to RED TEK ProSeal12.
Compatible with most common refrigeration materials and lubricants including R134a, R12, R502, metal components, mineral and synthetic (Ester and PAG) lubricants, seals, gaskets, hoses, compressors, and O-rings. Not appropriate for extremely large leaks (>1lbs. p/day).
No manufacturers warranties have been voided due to use of ProSeal12. ProSeal12 will separate out with the refrigerant oil in the reclaim process. No deleterious effects on the recycling/reclaim equipment will result.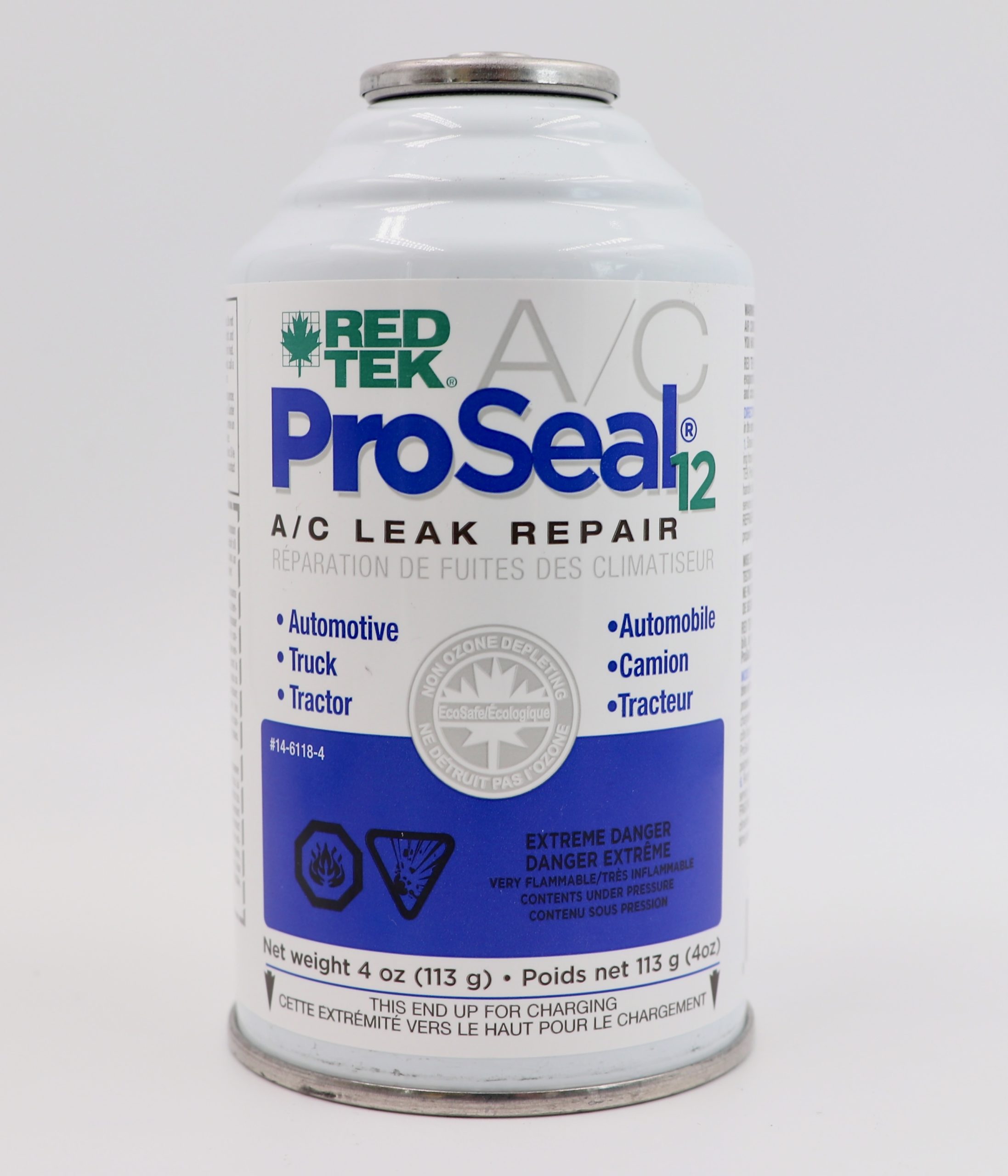 Brand: RED TEK
Model: ProSeal12
MPN: ProSeal12
Classification: A/C Additive
UPC: 819331004027
Part Number: 402
Unit Weight: 4oz (113g)
Chemistry: HC
EPA Certification Required: No
Require Certification to Purchase: No
Case Quantity: 12
Case Weight: 6lbs
Case Size: 11 x 8 x 5.5
Pallet Quantity: 120
Pallet Weight: 720lbs
Contact a sales representative in your area today in order to buy RED TEK ProSeal12 A/C seal repair, kits, and accessories.