1234yf – Automotive Refrigerant
RED TEK® 1234yf is a hydrocarbon-based refrigerant designed for peak efficiency and environmental responsibility. As vehicles with R-1234yf systems begin to require maintenance, access to this refrigerant becomes increasingly critical.
Lower Cost
RED TEK 1234yf has an extremely low leak potential, meaning less frequent maintenance work is required for your A/C systems. With virtually no leakage, the amount of refrigerant needed is also lessened.
Environment
RED TEK 1234yf refrigerant reduces the level of emissions that the vehicle puts into the environment. 1234yf combines better technology with environmental friendliness that exceeds previous refrigerant systems.
Safety
Several independent authorities evaluated the safety of 1234yfhc in vehicles, and some of them concluded that it was as safe to use as R-134a. It has the lowest flammability of any engine component-related fluid.
Compliance
1234yf meets European directive 2006/40/EC, for European refrigerant A/C systems with a GWP below 150.
New vehicles are specifically manufactured to take R-1234yf. While 1234yf has similar pressures to R-134a, they are not the same. Contaminating your A/C system with R-134a refrigerant can shorten compressor life.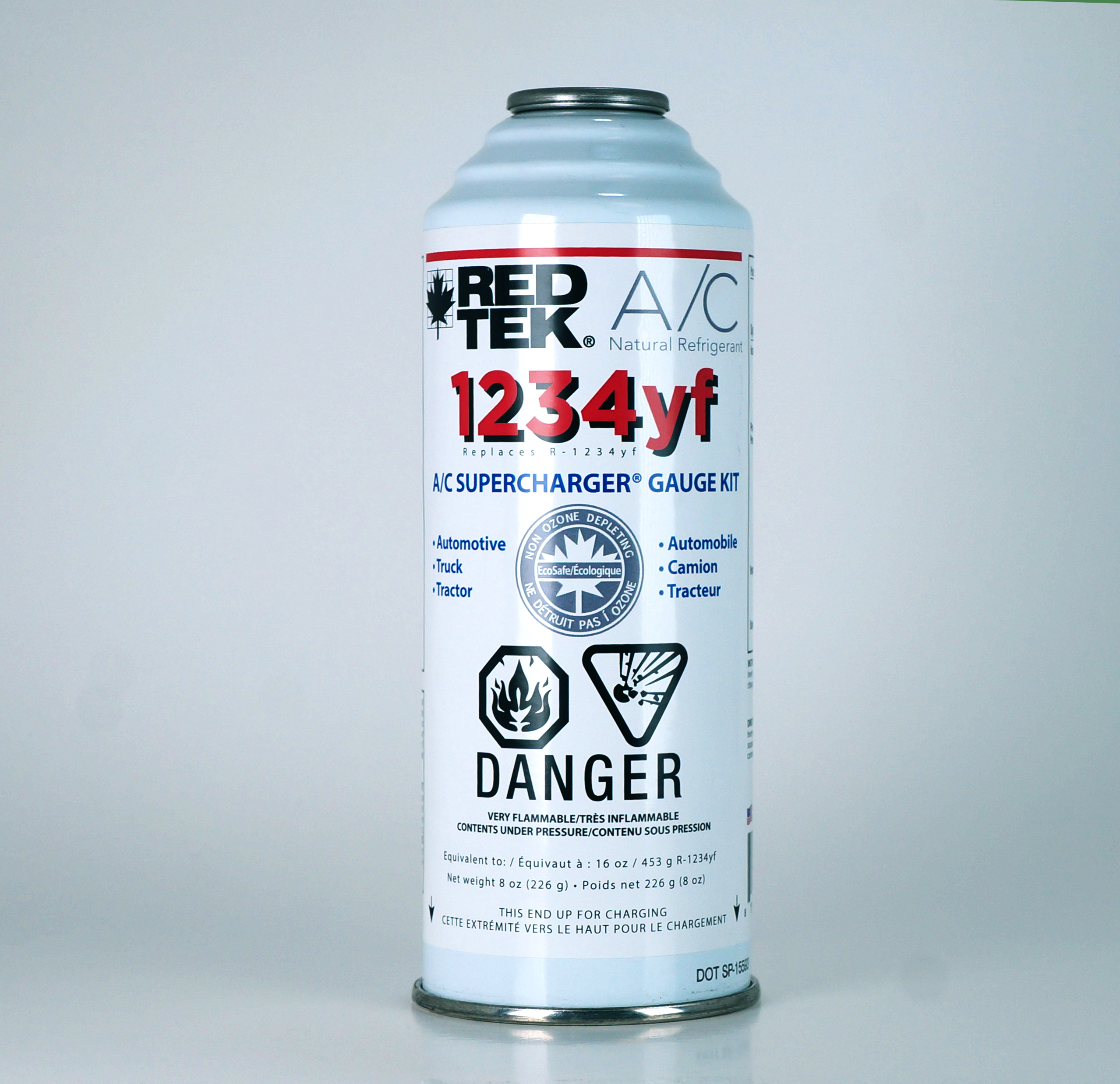 Brand: RED TEK
Model: Refrigerant 1234yf
MPN: 1234yf
Classification: HC
Gauge Kit: #612YF RED TEK SuperCharge installation hose
Thread Size: LH
Refrigerant: 1234yf
UPC/Part Number: —
Weight: 8oz. (226g)
Chemistry: HC
Require Certification to Purchase: No
Replacement for: R-1234yf
Safety Data Sheet
Vapor/Pressure Chart
Charging/Installation Guide
Packaging Availability
Quick Reference Guide
Contact a RED TEK sales representative in your area today in order to buy 1234yf refrigerant and supporting air conditioning tools and equipment.